Centrifugal pump
Designed for pumping non-viscous fluids, its applications are found in the sugar, hydrocarbon, chemical, paper, petrochemical, mining, water and food treatment industries, among the main ones.
Griswold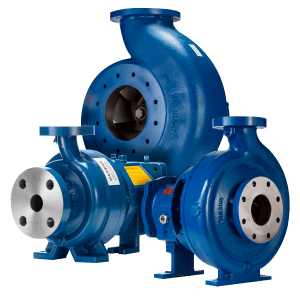 Centrifugal process pumps manufactured in the USA under the ANSI/ASME B73.1 standard, a wide range of materials for various applications in sectors such as the chemical, oil, sugar, water treatment, paper, etc. industries. Bearing box with internal epoxy coating to increase the useful life of the bearings.
System One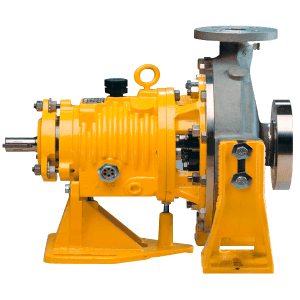 Centrifugal pumps built under the ANSI/ASME B73.1 standard for high reliability and low maintenance processes in severe services due to their robust design and manufacturing characteristics. The coefficient of rigidity L3/ D4= 17 is the lowest in the industry, with a solid shaft made of stainless steel, which guarantees a minimum deflection of the shaft, prolonging the life of the mechanical seal.
Gorman Rupp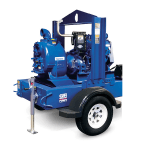 GORMAN-RUPP, a world leader in self-priming centrifugal pumps designed for heavy duty and high reliability, due to its robust design and construction materials are ideal for all types of industrial and municipal applications.
Its large volute design guarantees automatic priming, it has the capacity to handle negative suction up to 7mts without the need for check valves in the suction, it handles high percentages and size of solids up to 3 inches, they are designed for easy maintenance that It can be done without the need to disconnect the pipes and using common tools. Due to its design, the impeller, seal, wear plate can be accessed through the front cover, without the need to remove the pipes or decouple the motor.
Hidrostal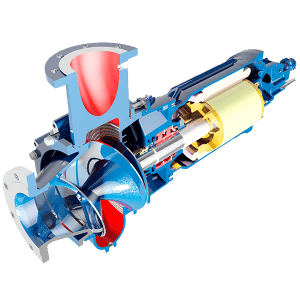 Pump specially manufactured for pumping fluids with solids without clogging, thanks to the Centrifugal-Helicoidal impeller technology that allows the passage of suspended solids up to 13%, a wide variety of materials for corrosive and abrasive applications.
The continuously open impeller from suction to discharge makes it possible to pump large diameter solids relative to the size of the pump. The centrifugal-helical impeller, due to its positive displacement and centrifugal configuration, allows a high efficiency operation, with low NPSHr, smooth operation and low risk of clogging.
Pentair- Fairbanks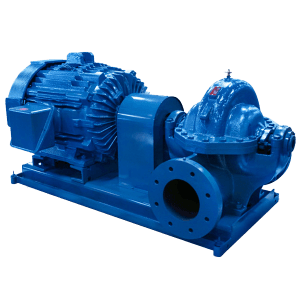 Split Case Pumps from the leading pumping system manufacturer Pentair-Fairbanks, with over 100 years of experience in a variety of markets and applications worldwide. Among its main characteristics and advantages we find:
•  Capacities up to 15,000 GPM (946 LPS) and dynamic heads up to 663 Ft. (202 m).
•  Horizontal and Vertical Configurations to suit the needs of the pumping station.
• Ease of maintenance, its constructive arrangement allows access to the internal elements of the pump (shaft, impeller, bearings, etc.) without having to decouple it from the motor.
•  High Efficiency Casing and impeller design are optimized to achieve the highest possible efficiency for the specified flow rate and head.
• Oversized bearings guaranteed for a minimum life of 50,000 hours at maximum load.
•  Available in a wide range of materials: Cast Iron, Ductile Iron, Stainless Steel, Super Duplex CD4MCu, Bronze and Nickel Aluminum Bronze.
Gorman Rupp
The standard Gorman-Rupp centrifugal pumps of the VG, VGH and 60 series are the appropriate equipment for the reliable transfer of fluids with maximum efficiency. Its main features and applications are:
•  Capacities up to 4900 GPM and dynamic heads up to 500 Ft.
•  Sizes between 1 ¼" to 8".
•  It has some of the lowest NPSH requirements on the market.
•  Special design for the transfer of fluids with high vapor pressures.
•  Equipped with an enclosed impeller featuring dual curved vanes for energy saving operation.
•  Unload and Load Bulk Tanks.
•  Pumping of Gasoline, Oils, Fuels, Petrochemical Products among the main ones.
Pentair- Fairbanks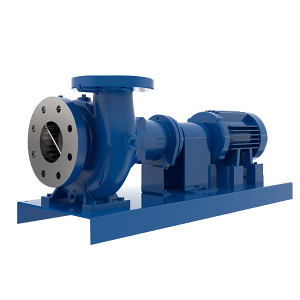 The new Pentair – Fairbanks end suction series offers the highest durability in the industry and is the most reliable solution for your fluid handling needs. Its main features and applications are:
•  Capacities up to 4200 GPM and dynamic heads up to 520 Ft.
•  Sizes between 1 ½" to 10".
•  Horizontal, Vertical and Online configurations.
•  Standard Ductile Iron Housing Construction and 316 stainless steel impellers and shaft bushings provide greater chemical resistance to corrosion.
•  Industrial, Municipal Uses, Cold or Hot Water Pumping, Heating, Ventilation and Air Conditioning Systems among the main ones.
Pentair- Fairbanks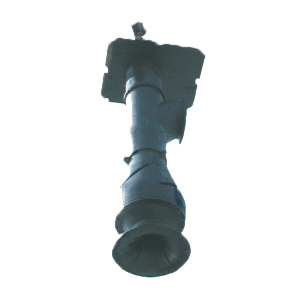 Pentair-Fairbanks Vertical Turbine Pumps with axial and mixed flow bowl assembly configurations. This type of pump is commonly used for municipal water supply, in agriculture, in community water distribution, water transport through aqueducts, re-pumping systems, industrial processes, cooling systems, in industry. oil industry, in the power generation industry, among its main applications.
Its main characteristics are:
•  Axial Flow Pumps, Capacities up to 1,000,000 GPM and Heads up to 80 Ft. Bowl Sizes up to 152".
•  Mixed Flow Pump, Capacities up to 250,000 GPM and head up to 100 Ft. Bowl sizes up to 72".
•  Vertical Deep Well Pump, Capacities up to 50,000 GPM and head up to 2000 Ft. Bowl sizes up to 57".
•  Vertical Turbine Pumps for solids handling (VTSH), Capacities up to 40,000 GPM and head up to 80 Ft. Bowl sizes up to 48".
•  Available in Submersible configuration (Pen Type).
National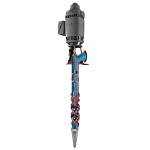 Las Bombas de Turbina Vertical National pueden cubrir todas sus necesidades de aplicaciones en pozos profundos. El diseño de las bombas de turbina vertical National permite multiplicidad de rangos operativos en caudal y presión de descarga, versatilidad en las opciones operativas y de mantenimiento. Es posible cambiar condiciones de diseño (Caudal y Presión) añadiendo o restando el número de impulsores, dependiendo de la curva podrían variar velocidades hasta un 35%. Adicionalmente, proporciona un servicio confiable a los sistemas municipales de agua, riego agrícola, minería y aplicaciones industriales.
Caudales hasta 20.000 GPM.
Presiones hasta 2.000 Ft
Potencias hasta 1500 HP.
Berkeley
Berkeley ofrece bombas de alta calidad diseñadas por profesionales con elevado conocimiento en la materia y ofrecemos equipos que brindarán muchos años de operación confiable y eficiente. Las líneas de bombas de Turbina Vertical Berkeley de la serie 10VT Y 12VT estan diseñadas para funcionar normalmente en pozos o sumideros.
Este tipo de bombas es normalmente utilizada para el suministro de agua potable en el sector municipal principalmente en acueductos, también son muy utilizadas en la agricultura para captación de agua de pozos profundos y labores de riego, utilizadas en la distribucion de agua en las comunidades, trasiego de agua a través de sistemas de re-bombeo, procesos industriales, sistemas de enfriamiento, en la industria de generación de energía,etc.
La calidad, confiabilidad e innovación del producto son parte del compromiso de Berkeley con la excelencia.
Vanton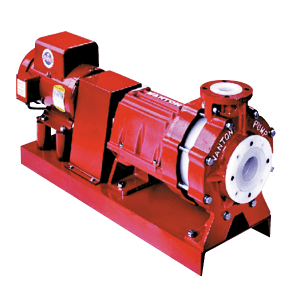 Centrifugal pump manufactured with thermoplastic injection (not jacketed) in its wet parts, special for handling highly corrosive, dangerous and ultrapure products.
Different Horizontal, Vertical and self-priming configurations. With mechanical seals and magnetic sealing option.
Gorman Rupp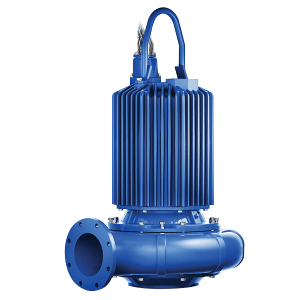 High reliability submersible pumps for super heavy duty and long life. The S-Series offers high volume, high lift operation and withstands the worst conditions in mines, quarries and shafts. The SF Series is designed for all types of municipal, industrial and construction applications where solids handling capabilities are required.
Its main characteristics:
S-series
•  Capacities up to 7100 GPM and dynamic heads up to 600 Ft.
•  Sizes between 2" to 12".
•  Powers between 2 to 275 HP.
•  Control panel with an on/off switch and overload protection is standard on all models.
SF series
•  Capacities up to 3400 GPM and dynamic heads up to 170 Ft.
•  Sizes between 3" to 8".
•  Powers between 3 to 75 HP.
•  3" solids passage.
•  NEMA Premium Efficiency motors (IEC IE3). Class H insulation.
Hidrostal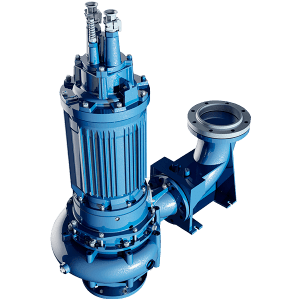 Hidrostal Submersible Pumps provided with their special Centrifugal-Helicoidal impeller design that pumps Residual Water, effluents that contain large amounts of solids and fibrous material with high efficiency. Pumping viscous liquids and fluids that require gentle handling are possible with this type of pump.
Its main characteristics are:
•  Capacities up to 2,500 LPS (39,625 GPM) and dynamic heads up to 100 m (328 Ft)
•  Sizes between 2" to 28".
•  Powers up to 400 Kw.
•  Passage of solids up to 250 mm.
• Pump Options with Immersible Motor, which allow to operate with minimum submergence levels for dewatering applications.
•  Availability of special materials such as High Chrome for abrasive applications or Stainless for corrosive applications.
Ampco Pumps
Sanitary centrifugal pumps ideal for the transfer of dairy products, juices, wines, beer, purified water, oil, alcohol, injectables among the main applications. Sanitary finish according to 3A standards, all parts in contact with the product are made of T316L stainless steel.
Marine and industrial applications
Ampco Pumps
Ampco Pumps has been producing centrifugal pumps for Industrial and Marine applications since 1948. Available in a variety of materials such as bronze, 316 stainless steel, Nickel Aluminum Bronze and 2205 Duplex Stainless Steel ideal for resisting corrosion and erosion with aggressive fluids or harsh environments.
Standard Berkeley Centrifugal Pumps
Berkeley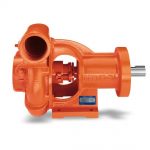 For over half a century, Berkeley pumps featuring a distinctive orange color have earned a worldwide reputation for rugged construction and highly reliable performance on the most demanding jobs. Berkeley pumps can be found in construction services, potable water transfer, irrigation, process liquid transfer, municipal water supply in aqueducts and many other applications.
Within the range of pumps that Berkeley can offer we can also find the following products: Monoblock centrifugal pumps, bare shaft centrifugal pumps, pencil-type submersible pumps, we can also find vertical turbine pumps for irrigation operations, vertical multistage pumps for high pressures and booster type pumps.
Berkeley Vertical Multistage Pumps
Berkeley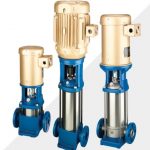 Pentair Berkeley® Series BVM and BVMX pumps are in-line design Vertical Multistage Pumps with multiple connection options available to meet your water supply needs if high head pressures are required.
TECHNICAL SPECIFICATIONS
Flow: up to 560 GPM.
Head: up to 1000 feet.
Liquid temperature: 5°F to 248°F(120°C)
Flange connection: ANSI Class 250/300.
Cartridge type mechanical seal: SIC / SIC / EPDM or Viton ™
Motor: 60hz
Premium Efficiency Motors.
Potencias hasta 60 HP.
MOST COMMON APPLICATIONS
Boiler feed
Water supply.
Pressure boosting systems.
Systems Water treatment / filtration.
Irrigation.
High pressure washing.
Liquid transfer.
Fire extinguishing systems.
Jockey pumps
Carrera 100 No. 15-170 Ciudad Jardín
+57 602 330 77 00 - Ext. 201 y 1061
Rosalinda Industrial Park, warehouse 14
+57 601 878 76 83 , +57 601 878 76 72
316 288 2390 - 316 257 8113
Via 40 No. 73-290 - Mix Building - Office 421
318 801 8416 - 317 402 98 81
316 482 9812 - 317 437 1082