Positive displacement pumps
Positive displacement pumps
Specially designed for pumping viscous fluids, they displace a defined volume in each revolution regardless of the required pressure. Among its main characteristics we find that they have extensive hydraulic coverage, reach high differential pressures of over 5,000 psi, efficient handling of viscous liquids even over 100,000 SSU, smooth non-pulsating flow, does not offer cutting effect and is self-priming.
Blackmer
Blackmer is a brand recognized worldwide for its sliding vane pumps, especially for its efficiency and low energy consumption, ideal for all types of viscous fluids, fuels and their derivatives. Availability of sizes from 1.5″ to 10″ Configuration of materials and sealing according to your application. (Iron, Hardened Steel, Stainless)
Moyno nov Mono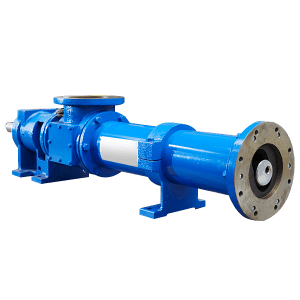 NOV is a leading company in progressive cavity pumps for applications with especially viscous and abrasive fluids. This technology gently treats the pumped fluid. Its flow is continuous and precise. This type of pumps can operate for exact dosage and transfer. A wide range of sizes and models are available depending on your application
Blackmer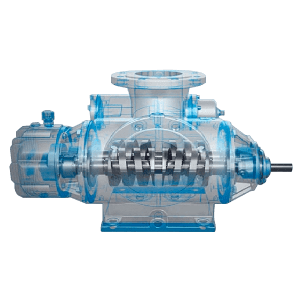 Blackmer S-Series Double and Triple Screw Pumps are designed for demanding applications requiring high reliability. Ideal for transferring light and viscous fluids at high pressures. Flow rates up to 2,500 m3/hr – Pressures up to 1,450 PSI and Viscosities up to 200,000 Cst.
Hillmann
HILLMANN Founded in 1929, is a renowned manufacturer of positive displacement rotary pumps, Double and Triple Screw Pumps. They are equipment designed with internal or external bearings, they work at all speeds, practically free of pulsations and vibrations, with low noise levels and with minimal agitation of the fluid due to its axial transport and synchronization between the flanks of the screws that compose it.
They have applications in all branches of industry as they are capable of transferring all types of lubricating or non-lubricating fluids, of low, medium or high viscosity, aggressive or neutral, and in turn can be designed with heating or cooling jackets.
Gorman Rupp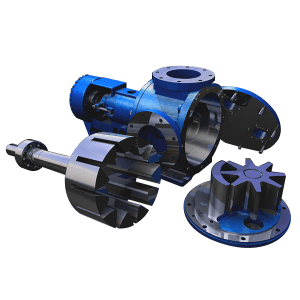 Gorman Rupp Internal Gear Pump specially designed for the transfer of fluids with high viscosities and light fluids depending on its configuration. Sizes available from 1″ to 6″, several alternative sealing and construction materials such as Cast Iron, Stainless Steel and Hardened Iron. Main applications: Molasses, Asphalt, Oils, Fuels, Viscous Acids, Abrasive fluids among the main ones.
Moyno nov Mono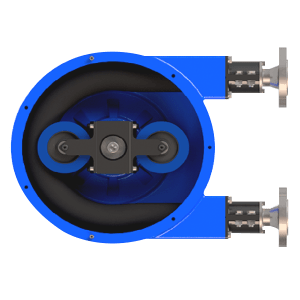 Peristaltic pumps from the NOV group with robust construction for 24/7 applications. Designed for high abrasion and dosage applications. Roller technology allowing greater capacity and better maintenance of the equipment, without mechanical seals and ability to work dry. Pump options for Industrial processes and Sanitary Processes.
OBL
OBL metering pumps that are the versatile solution for low pressure applications with the mechanical diaphragm M series, the piston R series is the reliable answer to medium pressure metering needs; Also to dose and mix simultaneously we have with OBL the H series of piston and mechanical diaphragm and finally with the L series and the XL series we can offer API675 pumps for high pressure and large flow applications. OBL is characterized by robust and reliable API675 pumps for applications in harsh environments.
Línea Blackline-Serie M Diafragma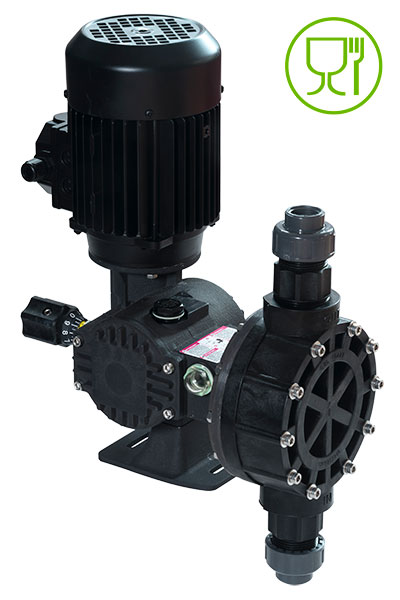 La solución versátil para aplicaciones de baja presión. Robusta y fiable bomba de membrana mecánica con retorno por resorte. La membrana de doble capa de PTFE la hace compatible con una amplia gama de productos químicos. Su cuerpo de aluminio y pintado mediante proceso de cataforesis aumenta su resistencia a los agentes químicos y atmosféricos. Estas características, junto con la gran precisión de la dosificación, hacen de esta bomba la solución perfecta para aplicaciones como la adición de aditivos en el tratamiento de aguas, su desinfección, dosificación de agentes químicos, floculantes y cualquier otra sustancia química, incluso agresiva.
Línea Blackline Serie R: Pistón
La respuesta fiable a las necesidades de dosificación de presión media. Las bombas dosificadoras de pistón serie R son perfectas para dosificar productos químicos a alta presión. Un Su diseño específico permite dosificar sustancias de alta viscosidad y/o alta temperatura, asegurando al mismo tiempo un alto nivel de precisión y repetibilidad repetitividad. Ideal para aplicaciones industriales que requieren la dosificación de colas, emulsiones, aceites y grasas, así como productos químicos no agresivos.
Línea Blackline-Serie XRN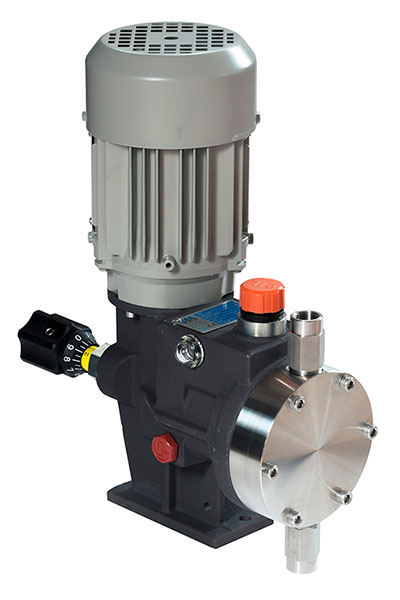 La solución premium con válvula de seguridad integrada. La primera bomba de membrana hidráulica de dimensiones reducidas con válvula de seguridad integrada. Esta solución combina la simplicidad y la economía del retorno por resorte con las ventajas de la membrana hidráulica, lo que la convierte en la solución perfecta para las aplicaciones de procesamientos. Su pequeño tamaño y la integración de una válvula de seguridad favorecen la reducción de los costes de fabricación y de funcionamiento del sistema e incrementan la seguridad.
Línea Topline-Serie L Pistón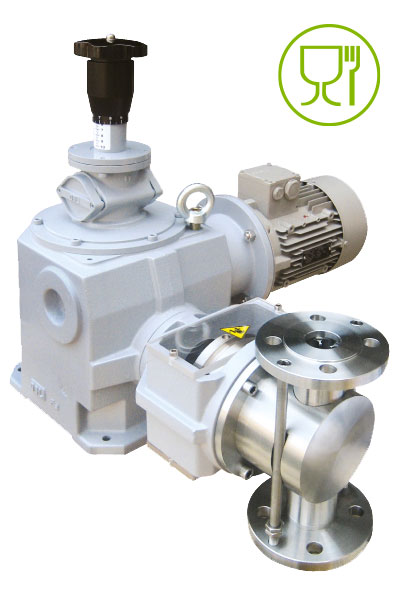 Bomba API675 para aplicaciones de alta presión y gran caudal. Capaz de generar presiones de hasta 500 barg y caudales de hasta 5500 l en versión de un solo cabezal, la bomba de pistón serie L es ideal para aplicaciones industriales exigentes como la alimentación de alta presión de calderas y la dosificación de catalizadores e inhibidores de corrosión. Diseñada para cumplir con los más altos estándares del sector de la medición, esta bomba de pistón con retorno positivo tiene un diseño modular que permite alojar varios cabezales para satisfacer a la perfección tus necesidades de dosificación. Los depósitos para el aceite separados reducen el riesgo de contaminación de los líquidos de procesamiento y aseguran un rendimiento constante y preciso.
Línea Topline Serie XL – Diafragma Hidráulico
Bomba API675 robusta y fiable para aplicaciones en entornos difíciles. Las XL son bombas de membrana hidráulica monobloque con mecanismo de retorno positivo muy precisas y robustas, aptas para aplicaciones industriales de ciclo continuo. Fabricadas de conformidad con las normas API675 y ATEX 2014/34/EU, estas bombas incluyen una válvula de seguridad, una válvula de purga de aire y un sistema hidráulico con rearme y accionamiento mecánico. Estas soluciones protegen a la bomba y a todo el sistema de dosificación de posibles daños por sobrepresión, a la vez que garantizan una adecuada dosificación química en cualquier circunstancia.
Línea Serie LX9 – Membrana Hidráulica
Bomba API675 para las aplicaciones más exigentes. La precisión de la dosificación, la robustez y el tamaño reducido hacen que la bomba de doble membrana hidráulica L X9 sea la solución ideal para una amplia gama de procesos industriales. El mecanismo de retorno positivo garantiza una gran fiabilidad y durabilidad, mientras que las válvulas de seguridad y de purga integradas permiten una aspiración y dosificación química constante en cualquier condición de funcionamiento. Con la capacidad de integrar múltiples cabezales para satisfacer numerosos requisitos de dosificación, las bombas L X9 se fabrican conforme a las normas API675 y ATEX 2014/34/EU e incluyen sistemas de seguridad con indicación de rotura de membrana.
Ampco Pumps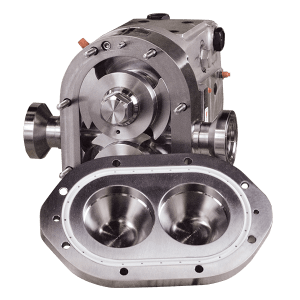 Lobe type positive displacement pumps with different By-Wing, Tri-Lobe or Circumferential Piston configurations depending on the application. Totally sanitary construction complying with FDA 3A standards for the transfer of food and pharmaceutical products, sensitive to shearing. Interchangeability of models and parts with competitive lobe pumps.
Börger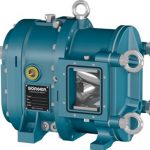 Börger rotary lobe pumps are self-priming, valveless, positive displacement pumps.
Börger rotary lobe pumps are self-priming, valveless, positive displacement pumps. The uniform rotation of the pair of rotors creates a vacuum on the priming side of the pump, which can be defined by the direction of rotation of the drive. This vacuum draws the liquid into the pump chamber. With further rotation, the pumped medium is transported past the pump wall into the pressure area. Up to six chambers loaded with product are moved with each rotation of the motor, depending on the type of rotor. When the rotor is stopped, the pump is almost completely sealed.
 Caudales de la bombas hasta 1.450 m³ / h (6.400 usgpm / h)
Cabeza de las bombas de hasta máx. 160 m (524 pulg.)
Carrera 100 No. 15-170 Ciudad Jardín
+57 602 330 77 00 - Ext. 201 y 1061
Rosalinda Industrial Park, warehouse 14
+57 601 878 76 83 , +57 601 878 76 72
316 288 2390 - 316 257 8113
Via 40 No. 73-290 - Mix Building - Office 421
318 801 8416 - 317 402 98 81
316 482 9812 - 317 437 1082